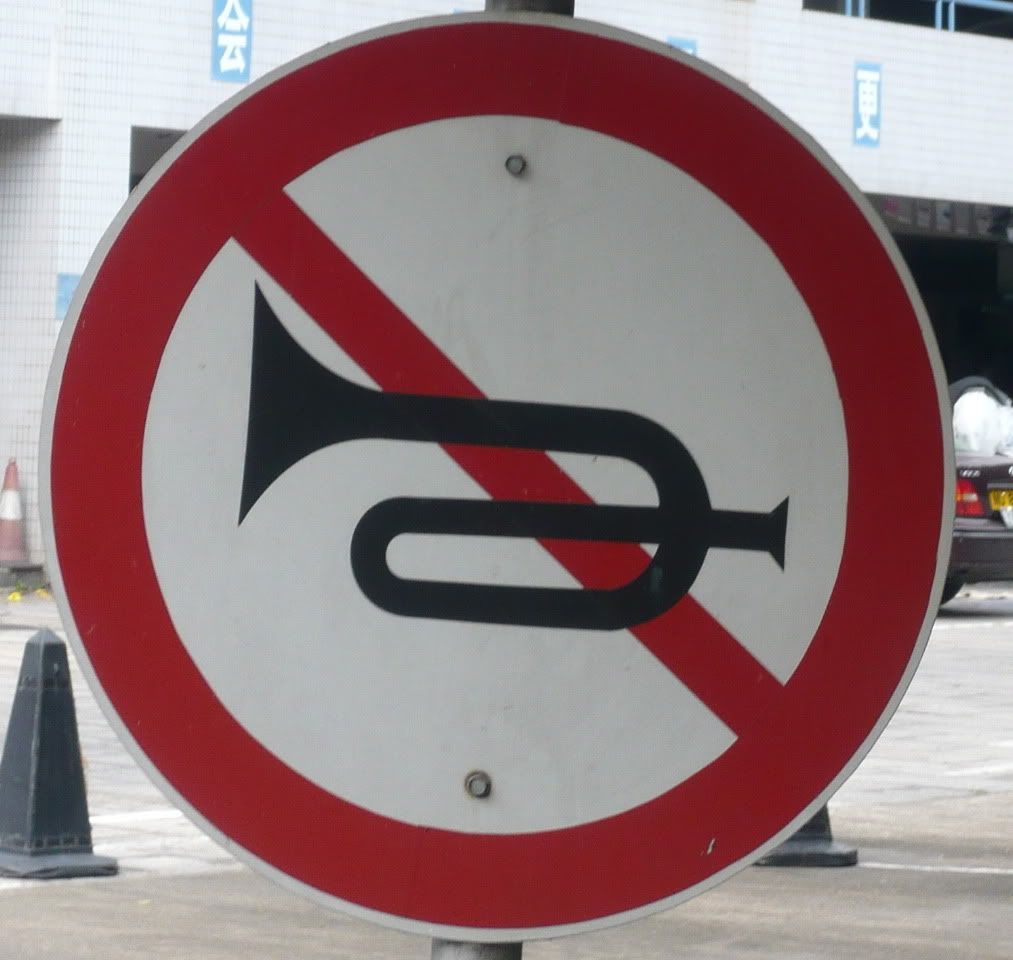 I performed recently in Guangzhou, China and saw this on street signs everywhere.  Not sure why, but it appears that a lot of people there seem to have something against trumpet players. 😉 Still, we just wanted to let everyone know that the band did everything within our somewhat limited diplomatic powers to remedy the situation.   As far as I could tell it worked because everyone in the audience seemed to dig the brass…
Just because I know he won't, I wanted to mention that Dave D finished a Toughman triathalon today.  We're talking a 1.2 mile swim, a 56 mile bike ride and a 13.1 mile run all in a row….and he shattered his time goal by over thirty minutes!   To give you an idea of how long something like this takes: I got up this morning around the same time he started, had a leisurely breakfast, ran 8 miles, practiced for 2 hours, drove 1.5 hours to the finish and still had time to find a good spot to cheer him on.  Now, if I can just figure out just how he managed to train for this in between Brass Ecstasy tours, organizing the next wave of the FONT festival, writing, practicing and planning for whatever is next, I think I'd be in good shape..literally!  Kudos Dave….
Guitarist Matt Stevens just let me know about this ultra nerdy website called practicesightreading.com.  It's a good one.  You can enter in different levels of mixed meters, compound meters, odd meters and then generate up to 99 bars of musical mayhem to apply to your daily practice routine…. here's an example of one I came up with.  Have fun…
George Russell, composer and author of the "Lydian Chromatic Concept of Tonal Organization for Improvisation" died on Monday at the age of 86.   Here's a link to Orrin Keepnews talking about George's music.  Click Here
Tomorrow (Tuesday, July 28) night at 8pm I have the great pleasure of performing with Lawrence D. "Butch" Morris at the Stone in New York.  It's along with some great string players including violinist Cornelius Duffalo from the string quartet "Ethel" and cellists Okkyung Lee and Alex Waterman among others.  After an intense rehearsal today I'm very excited to be sharing the stage with these other musicians, most of whom are on the forefront of New York's new music scene.  It's going to be fun.
If you don't know his work, Butch Morris employs a technique called "conduction" which is a process in which musicians read signals and improvise on the material that derives from it.  Butch uses the hand signals to generate the basic musical germs, then shapes the material into larger structures and he often includes his own written music too. In addition to being an act of spontaneous compositional virtuosity, his work is a testament to individual creativity in a group setting..not to mention requires a lot of focus…after three hours of it today, I am pretty exhausted.
If you'd like to read more about Butch and his music, click here…..
– Michael
In wandering around in cyberspace, I came across this great interview with Tim Berne at Ethan Iverson's blog.  It's incredibly candid and delves into several stories that relate to his artistic process.   Tim's story about how he started playing the saxophone and started his first band is great too…..
As someone whose talent falls very clearly into the category of only mere-mortal, I was heartened by David Brooks recent article in the New York Times where he writes about what separates genius from the very accomplished:
"The latest research suggests a more prosaic, democratic, even puritanical view of the world. The key factor separating geniuses from the merely accomplished is not a divine spark. It's not I.Q., a generally bad predictor of success, even in realms like chess. Instead, it's deliberate practice. Top performers spend more hours (many more hours) rigorously practicing their craft."
Another fascinating quote from the same article:
"….The mind wants to turn deliberate, newly learned skills into unconscious, automatically performed skills. But the mind is sloppy and will settle for good enough. By practicing slowly, by breaking skills down into tiny parts and repeating, the strenuous student forces the brain to internalize a better pattern of performance."
There may be hope yet….